Today I am rockin' a fabulous new leather belt with a blingy Belt Buckle courtesy of
Belt Buckle Boutique
. This belt is a nice wide width of 1 1/2" and easy wrap around style. The extra length fits right behind the belt buckle, so no need to secure into belt loops. In fact, there are no belt loops.
This belt has 5 different settings of notches for expansion so you could wear it high or low waisted if you liked. Today, I'm wearing my
Belt Buckle Boutique
belt in a low slung manner under my baby bump belly. I paired the belt with a simple bright tee shirt and white jeans.
It's a great way to accentuate my baby bump and look put together and fresh. I love a low slung belt with a boho dress or even a fitted body hugging silhoutte. Don't you?
This belt is the
genuine oil tanned brown leather
with a
white stone flower belt buckle
. The buckle itself has a moonglow look center stone surrounded by silver toned detail work including more stones and diamond accents as well. The stones are just gorgeous! This belt buckle is available in black stones also if you aren't a fan of the white. Not a fan of flowers? Check out the site through the links below- there are SO many styles to choose from. I can't wait to try out a
Brass Buckle
next time. They have a real antiqued vintage look to them.
I can tell that this is a very high quality belt and belt buckle that I am sure to cherish for many years to come. I can't wait to pair it with Fall and Winter styles of tunics and capris, sweaters, dresses and even jeans!
Belt Buckle Boutique offers trendy fashion belt buckles and belts that are interchangeable. There are tons of different styles and something to suit everyone. Check out their site and say hello on Facebook!
Want to win a belt buckle of your own?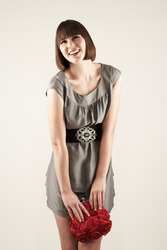 Pictures other than my own of me wearing my belt buckle are all courtesy of Belt Buckle Boutique website.
Please see Rafflecopter Entry Form below. Belt Buckle Boutique will choose the buckle to send you as a prize. US Only giveaway.
Disclosure: I have been compensated for this post as part of a campaign
with Living Your Moment. All opinions are mine and mine alone. I am
disclosing this in accordance with FTC 16 CFR Part 255 concerning the use
of endorsements and testimonials in advertising.